Brief Personal Profile of Prof. S.B Sharma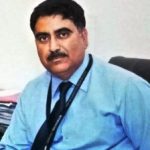 Prof. (Dr.) S. B. Sharma, Ph.D. (Zoology) and Ph.D. (Education) is a scientist, researcher, educational psychologist, philanthropist, and author. Besides his academic traits, he has proved equally well-organized and proficient administrator for more than 26 years in educational administration as Principal, Director Academics, Director-Research, Dean and Professor.
His most significant contribution was hosting the inspection of National Accreditation and Assessment Council (NAAC), Bangalore, India which is an autonomous body of the Government of India working for quality education. He also inspected the educational institutions as member of Inspection Boards duly constituted by the State Government Universities.
He has been an author of books related to science education, environment, research, computer education, Covid-19 and motivational books published by national and international repute publishers with International Standard Book Number (ISBN). He has also been chief editor, reviewer, advisor and popularizes Science and Spirituality, Science Education, Value system, planning and policies in Higher Education. He was also entrusted with various positions like Controller of Examinations, Convener of Internal Quality Assurance Committee, Internal Audit Committee, Academic Regulatory Committee, Chairman, Board of Faculties of Science and Member of Academic Council, Board of Management, Board of Examinations, Flying Squad and various other committees.
His research group is working on medicinal plants, their anticancer activity, gene expression, Bioremediation, microbiology, heavy metal analysis, and biochemistry. Recently, he has started developing research network in collaboration with the researchers from Malaysia, United Kingdom, United States of America, Singapore and Indonesia to find medical solutions for communicable diseases like Malaria, HIV/AIDS, and acute respiratory infections as well as non- communicable diseases like hypertension and diabetes.
He has been invited as Academic Expert by Educational Survey Division, National Council of Educational Research and Training (NCERT), New Delhi (a Government body working to regularize the School Education in India); as Reviewer in Special Environment Issue of National Journal of Science published by the Commission of Scientific & Technical Terminology (CSTT), Ministry of Education, Government of India, (a Government body working to translate the Scientific terminology in the official language of India) and also organized a two days National Seminar as Coordinator with this Government organization.
Professor Sharma has delivered more than two hundred keynote addresses, distinguished lectures at the Academic Staff Colleges of the Central & State level Universities, addresses as Resource Person & while presenting research papers participating in International, National Conferences & Workshops.
He has authored more than one hundred and fifty research papers in journals of national and international repute, articles on social, educational issues in magazines, wrote letter to editors of national newspapers. Being a Chief Editor & Managing Editor of more than ten International Standard Serial Number (ISSN) Journals of National & International Repute, he has reviewed more than three hundred research papers.
Apart from this, he has also organized many National & International Seminars with the release of the ISBN book of seminar proceedings, Workshops, Faculty and students exchange programs, personality development programmes, Community development programmes, established Chairs in the name of Great personalities like Swami Vivekanada Study Centre, adopted villages for social welfare programmes, organized health and education awareness camps in rural areas, and various co-curricular activities to explore the talents of students and faculty members.
He has been conferred with 'National Innovative Teacher Award 2019', Outstanding Leadership Award, Professional Commitment Award 2016, Prof. N.S. Chauhan Memorial Lecture Award-2016, Prof. V.P. Sharma Memorial Award Lecture 2015 , Life Science Educationist Award-2014, Flame of Science Award -2014, Hindi Sahitya Ratan Award-2014 by Hindi Sahitya Academy, Mauritius, Vigyan Bhushan Samman, IPERA—Prof. Satya Pal Ruhela Best Educationist Sociologist Award 2013' by national & international educational, research, professional and social organizations.
Due to his extraordinarily valuable contribution, he was honored with Best Dean Award in three consecutive sessions at University level in recognition of successful administration, teaching, research, completion of planned targets and multidimensional objectives.
Now as a Vice-Chancellor for Millennium University, his role will be include but not limited to developing and expanding the University's interests 'Academically' by adopting Interdisciplinary Approach and collaborating by signing MOUs with the leading Higher Educational Institutions of the world; 'Socially' through Community Linkages and services, 'Spiritually' by developing commitment towards preparing dedicated and skilled youth and 'Financially' through collaboration with Corporations & Industries.
---
VICE CHANCELLOR'S MESSAGE
"Education for National Development, Peace and Humanity through Multidimensional Advancement"
Heartfelt congratulations and best wishes to all young achievers who are part and parcel of Millennium University, Blantyre, Malawi; a prominent institution of higher education! It is indeed a privilege and pleasing moment for me to greet all of you in my capacity as the Vice-Chancellor of the University. I believe youth have tremendous energy to shape not only their lives but the future of the whole world through social and national development. The recent crisis of pandemic has shown the creative and innovative aspects of doing things and youth played an significant role in overcoming the tough situations.
The primary concern of the University is to strengthen the students and faculty members through personality development, skill development and capacity building programmes with a spirit of community service and social welfare. Education must inculcate the life, communication, problems solving, decision making and the most important entrepreneurial skills among learners. In the era of globalization, it is possible only when learning takes place beyond four walls of the classroom. The students must be provided exposure to learn as well as explore their innate talent at national and global level for which the collaboration among the Universities, industries, and other higher education institution at global level is necessary.
The vision of the University is to ensure that it remains pioneer at every level and recognized universally in realizing strong possibilities for a multidimensional development (Cognitive, Conative and Psychomotor) of students and fulfill its responsibilities in qualitative education and research. The University will soon introduce the Doctor of Philosophy (Ph.D.) programmes in various disciplines with their specialization to include research and practical working and thereby serving two fold purposes, one is to give impetus to expertise among students and other to give practical solutions regarding existing social, financial, political, economical, healthcare and other contemporary problems. The concept of 'Education through spiritual and moral development for Peace and Humanity' will cater the need of all stakeholders and thereby bring a collective positive change in the entire scenario for better, safer and healthier learning. Recent pandemic has made us to rethink on equipping the youth with digital skills and to strengthen them so that they could face the challenges and unfavorable circumstances with courage. We are also progressing towards establishing chairs in the name of the existing as well as historical great thinkers, innovators, entrepreneurs, social reformers to propagate their vibrant ideas and thoughts among new generation.
You are welcome to be a part of the University which is striving towards strengthening youth with national as well as global competence and excellence through education.